Akron Healthcare is one of the fastest growing Medical Companies in India. Akron Healthcare is engaged into Manufacturing, Distribution and Exports of Pharmaceutical Formulations and Medical Products. The company has modern facilities for large volume production in the area of Tablets, Capsules, Syrups, Liquids, Granules, External Preparations, Ointments, Liquids, Creams, Powders (Betalactum & Non Betalactum) and other Medical Products. The plant has good surroundings with well-maintained green area. An in-house well equipped quality testing laboratory facilitates testing and inspection of every batch of the manufactured formulations and products. Akron Healthcare has been vastly strengthening according to the global norms, standards and guidelines for the quality, safety and efficiency of drugs, including traditional medical techniques.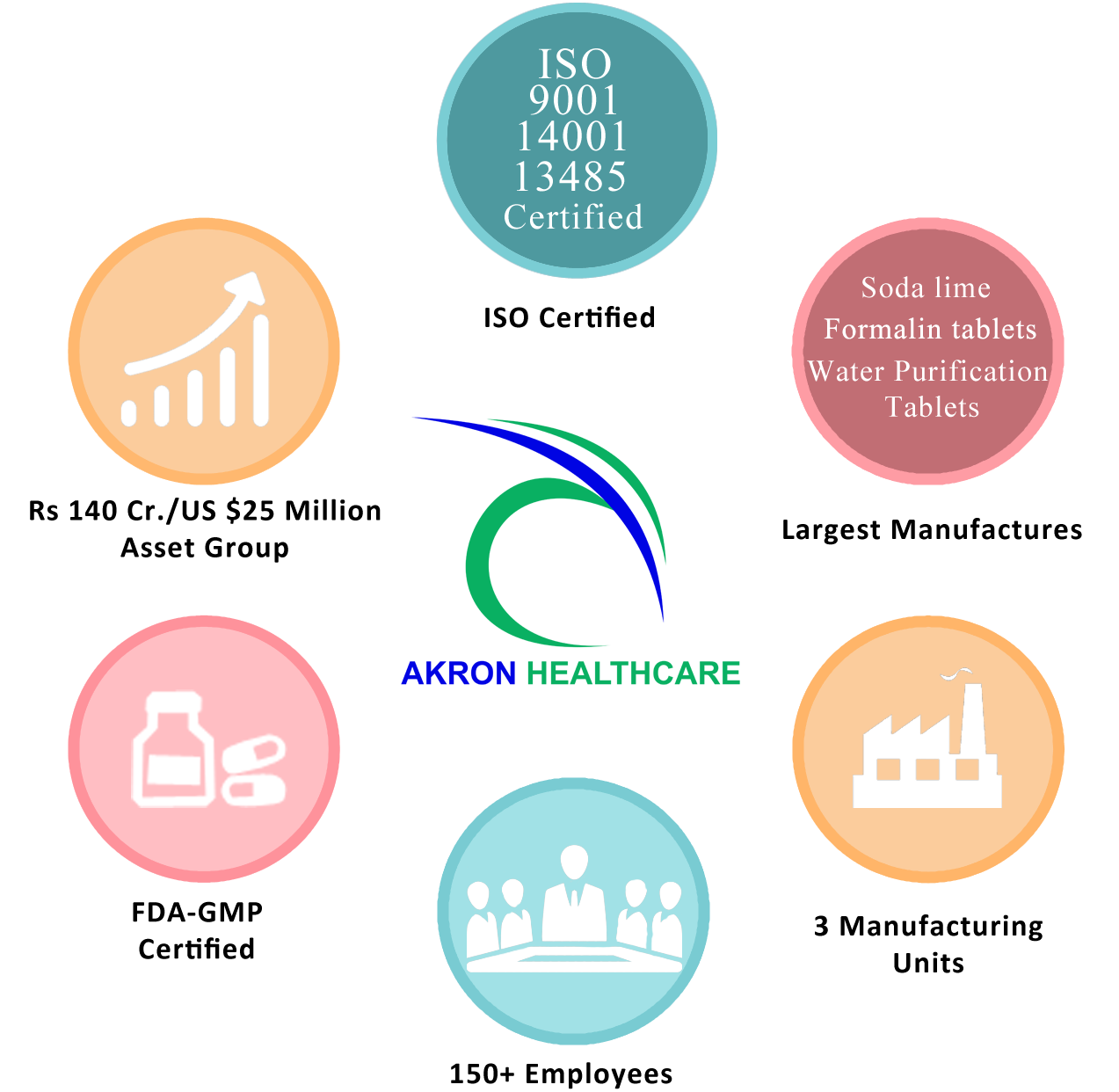 Akron Healthcare Manufacturing Facility is FDA, Schedule "M" & GMP Certified. Akron Healthcare is an ISO 9001:2008, ISO 14001:2004, OHSAS 18001:2007, ISO 13485:2012 Certified Company.
Akron Healthcare is a part of the prestigious Rs 140 Crore (US$ 25 Million) - asset "Akron Group" that has an annual turnover of Rs 115 Crores (US$ 20 Million) and employs over 100 people.
Our specialized manufacturing range includes Hospital Consumable Chemicals, Soda Lime CO2 Absorbent, Water Purification Tablets, Chlorine Tablets, NaDCC Tablets, Sodium Dichloroisocyanurate Tablets, SDIC Tablets, Halazone Tablets USP, Formalin Tablets, Paraformaldehyde Tablets, Activated Charcoal Tablets IP/BP/USP. We also offer TCCA 90% Tablets; Granules; Powder, Swimming Pool Chlorine Tablets; Granules; Powder, Industrial Water Purification Solutions.
We are the Pioneer & Largest Manufacturers of Soda Lime, Formalin / Paraformaldehyde Tablets and Activated Charcoal Tablets in India (Ranked No-1). Our output for Soda Lime is 1500 MT per annum, for Formalin / Paraformaldehyde Tablets is 125 Million Tablets per annum & for Activated Charcoal Tablets is 600 Million Tablets per annum. We are also the world's leading manufacturers of Chlorine Tablets, NaDCC Sodium Dichloroisocyanurate Tablets for Water Purification with an output of 1200 Million Tablets per annum.
Akron Healthcare has a network of 600 Dealers across India to cover every Hospital and Retail Store for its range of specialized product range that includes: Soda Lime, Formalin Tablets, Paraformaldehyde Tablets, Water Purification Tablets, Chlorine Tablets & Activated Charcoal Tablets. We are exporting our products to 30+ countries worldwide.
The existing production units of Akron Healthcare employ 100+ workers at the production & production supervisory level and 20+ people at the managerial & backend level. The company has a marketing field force of 60 personnel across India.
The existing production facility of Akron Healthcare Pvt. Ltd is spread in 40,000 Sq ft. area in Delhi NCR (Sonepat, Haryana), India & in 20,000 Sq ft. in Dehradun (Uttarakhand), India which is GMP Certified. The company is also coming up with another manufacturing unit as per WHO-GMP guidelines in 30,000 Sq ft. area in Delhi NCR (Sonepat, Haryana), India. All 3 plants of Akron Healthcare incorporate clean room, state of the art manufacturing equipment and warehousing facilities. Akron's manufacturing facility means close control of all parts of the development process, from rigorous testing of materials and rapid prototyping, through to the latest production processes that deliver high quality innovative medical products.
Akron Healthcare Pvt. Ltd. has its Corporate Office in New Delhi (India) and also maintains 20,000 Sq ft. Warehouse Facility in New Delhi (India) for convenient and prompt logistics management.
The company is supplying Water Purification Tablets and other Disaster Management Products to various UN Organizations, Relief Agencies, UNICEF (United Nations Children's Fund), WFP (World Food Programme), WHO (World Health Organization), Caritas, Ministry of Health, Humanitarian Logistics, NGO's, Red Cross Societies, Oxfam, Peace Keeping Defence Forces, NDRF (National Disaster Response Force), Naval Forces etc. By virtue of being suppliers of Water Purification Tablets to the above mentioned organizations, Akron Healthcare Pvt. Ltd. has also become their trusted vendor for Various Relief & Disaster Management Items since 2005 that include: Oxfam Buckets (14 Litres & 20 Litres with or without Tap), General Buckets, Pale Buckets, Collapsible and Semi Collapsible Jerry Cans (10 & 20 Litres), Multi Usage Tents, Kitchen Sets (IFRC / ICRC / UNHCR), Blankets (Fleece / Woollen etc.), Tarpaulins, Shelter Kits, Sleeping Mats, Hygiene Kits, Emergency Kits, Prefabricated Units, Solar Lanterns & Torches, Food Kits / Parcels, Hand Pumps & Stoves, Medicated Mosquito Nets, LLIN Long Lasting Impregnated Nets.
Popular Brands of Akron Healthcare include Aquapura, Akrosept, Akrosorb, Ecosorb, Formatab, F-Tab, Koltab, Akrochar, Kolcap, Sulfazone, Vegelax, Superlax, Kufso, Hypo, Pepsizyme, Akrozyme, Earex, Teethol, Castivlax etc.
Our current range of activities include:
Manufacturing
Contract Manufacturing
Sales-Distribution
Direct & Indirect Exports
Institutional Supplies
Hospital Supplies
Emergency Relief Supplies